Mortgage Information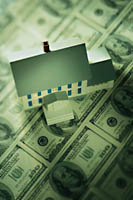 If you're like most buyers, a home is the most expensive purchase you may ever make, and you are probably going to want some form of financing. The first step in the buying process is to meet with a good lender and obtain your pre-approval letter so you won't miss out on the property you desire. In order to present your offer, an approval letter or proof of funds will be required.
There are many lending institutions that offer a variety of mortgage products. Financing options and rates can vary widely, so it is important to do your research and shop around to ensure you get the mortgage that best meets your needs. The interest rate is not the only criteria to watch for. You also want a lender who will explain everything to you and stay on top of the loan so you can proceed to the closing table with no surprises and in time to meet your contingency requirements. Most loans can be obtained within 45 days but many are going faster than that today. Most loans will require PMI insurance if less than 20% is to be put down on your purchase. I do have one lender today that does not require PMI insurance which is a monthly expense added to your PITI payment.
I would be happy to offer some good mortgage contacts, or to help you in any other way I can to secure the best loan for your purchase. There was a time when I was also writing loans but now I refer you to lenders who will review your finances and credit in advance of your search for your new home or other property.
Use the mortgage calculators below to assist you in making some decisions around financing your new home.
---
Mortgage Payment Calculator & Amortization Table
This calculator will help you determine what your mortgage payments will be based on purchase price, interest rate and mortgage term, as well as other factors. The amortization table shows what the interest and principal payments will be over the term of the mortgage.